Opening Times
The library is open during break and lunch time every day. It is also open most days before school 8.00-8.30 and after school 15.00-16.00.
Resources and Facilities
Our stock includes over 3,800 fiction and non-fiction titles. Books are provided for a range of reading levels, include dyslexia-friendly texts. We pride ourselves on showcasing a diverse range of resources, including authors and characters of various races, religions, disabilities, sexual orientations and gender identities.
The library houses the student supplies boards, which provides free basic equipment throughout the day. Pupils also have access to self-guidance texts, mindful colouring sheets, quizzes and a selection of board games for use in the library at break and lunch.
Study space is available for individual and group work as well as reading, supplemented by a large collection of GCSE textbooks, workbooks and past papers.
Our wellbeing corner, with soft seating and a range of self-guidance resources, offers space for mindfulness, reflection, or talking with mentors.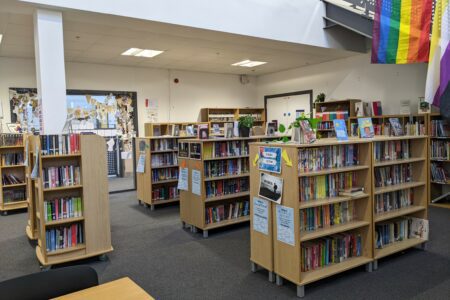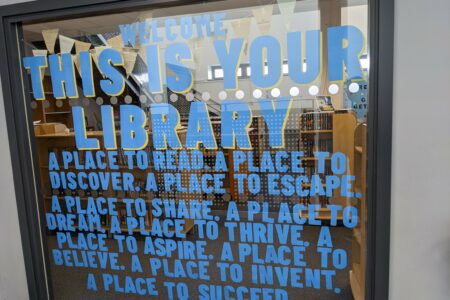 The library's colourful displays change regularly, offering information on cultural and social topics which may benefit students both in school and out. This can include subjects such as censorship, Black History Month, Pride and more. Pupils are provided with a range of activities and resources to provoke reflection around these subjects.
Clubs and Activities
The Lees Bookers Book Club meet monthly, shadowing children's book awards such as the Carnegie Prize. During these sessions students get the opportunity to discuss, debate and share their opinions on the entertainment, importance and impact levels of various recent releases.
Lees Brook celebrates World Book Day each year both in the library and throughout the school, and regularly engages with Scholastic to bring the Book Fair to students.
Archway Learning Trust Book of the Year Award
In collaboration with other schools across the Trust, the library takes part in the Archway Learning Trust Book of the Year Award.
Students have the opportunity to read books from a shortlist and vote on their favourite to determine the winner. The shortlist has been carefully selected by the Trust's librarians to showcase new diverse, inspiring and entertaining reads that cover a range of reading abilities to both challenge students and ignite a love for reading.
Reading for Pleasure
As well as reading for pleasure during form time and English lessons, students are encouraged to use the library to foster their own love of books.
Books within our library are organised by genre, enabling students to easily find titles that reflect their own interests and passions. Amongst these book genres are fantasy, sports books, horror and graphic novels.
Students are also encouraged to engage in reading challenges such as book bingo, treasure hunts, and the library House Cup to stimulate a real excitement and challenge to reading.
Library and Literacy Interventions
Students may be selected to take part in group or individual intervention sessions in order to offer additional reading support and enhance their reading for pleasure.
Individual interventions are carried out once weekly in 20 minute sessions. Students engage with Accelerated Reader, a specialised tool designed to track and improve reading skills through quizzes and activities, and choose their own books from the library to read with their reading mentor.
Group interventions include up to six students, and take place during reading for pleasure English lessons. Students read a chosen text together, engaging in structured discussions around the book.
Other literacy interventions include Lexia and phonics.
Useful Links