What is the Duke of Edinburgh's Award?
The Duke of Edinburgh's Award Scheme is a prestigious, world leading youth achievement programme, that over a quarter of a million young people embark on each year. Students can achieve three levels: Bronze, Silver and Gold. Apart from having a great time, the award helps young people build greater confidence, self-esteem, resilience and teamwork skills. The achievement is highly regarded by colleges, universities and employers as it encompasses many of the key attributes they look for, in addition to academic qualifications.
What does the award consist of?
There are four sections to the award: Skill, Volunteering, Physical and Expedition, each encourages students to try different things, gain new experiences and make a difference in the local community. Students can choose what they do for Skill, Volunteering and Physical; but examples include learning a musical instrument, volunteering with the PDSA and playing for a football team.
D of E at Lees Brook School
D of E at Lees Brook Academy is very popular, with over 100 students completing the award each year. This makes Lees Brook  Academy one of the largest Licenced Centres in Derby, with one of the highest pass rates. Around half of our students leave year 11 with a D of E award. Students have the opportunity to complete the Bronze Award in year 9 and then progress on to complete the Silver award in year 10. We are unable to offer Gold as students must be over the age of 16. However, many students progress on to complete their Gold Award at college, University, or with an open D of E group.
Expeditions
Part of the award students look forward to most is the expedition section. Students complete two expeditions, one practice and one qualifying. At Bronze, the expedition is two days, one night and for Silver, three days, two nights.
Walking in groups, students navigate their way along a planned route, carrying all of their kit in a rucksack, including a tent, stove, food and personal kit. On reaching the campsite, students set up their tent and cook their dinner on a stove, before getting up early the following day to continue their expedition. Expeditions take place in the Peak District; for the Silver assessed expedition we visit the Wye Valley and Forest of Dean.
Students are taught all of the skills needed for a safe and successful expedition during our expedition training day, developing skills such as map reading, navigation, first aid, food and cooking. Expeditions are led by Lees Brook Staff, who hold national governing body walking qualifications.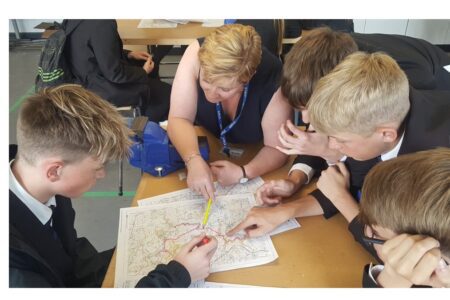 Interested in starting your D of E Award?
You can start the Bronze Award in Y9. An assembly will take place in November with more information.
If you have any questions, please speak to Mr Waterhouse, the school D of E Manager.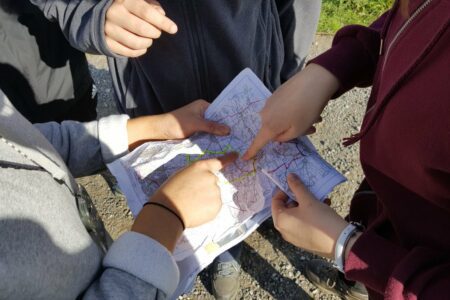 After School Meeting Dates
Meetings will take place on the dates below. Attendance is compulsory. Should you be unable to attend a meeting due to an appointment, parents / carers must make school aware beforehand.